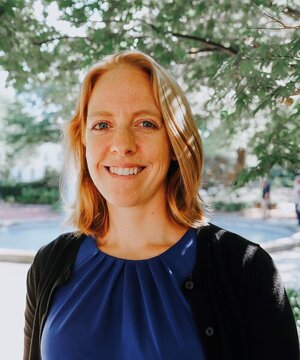 This academic year, REEEC welcomed Dr. Nora Webb Williams to our affiliated faculty and to Illinois. Dr. Webb Williams is an Assistant Professor in the Department of Political Science who holds a PhD in Political Science from the University of Washington. She previously taught at the University of Georgia, and is also a former Peace Corps volunteer in Kazakhstan and Liberia. 
As a scholar of Central Asia, her research interests focus primarily on Kazakhstan, in regard to both modern nationalism and protests in the country, as well as the long-term social and economic impacts resulting from Imperial Russian and Soviet rule. In her research, she uses digitized images for social science analyses that connect to her other interests of causal inference and machine learning. Her work has been published in the Cambridge Elements series in Quantitative and Computational Methods for the Social Sciences, Policy Studies Journal, Political Research Quarterly, and Europe-Asia Studies, among other outlets. A new co-authored article with Kristoffer Rees and Alexander Diener, titled "Territorial Belonging and Homeland Disjuncture: Uneven Territorialisations in Kazakhstan," has just been published by Europe-Asia Studies. It focuses on the geographies of ethnic and state-framed nationalism in Kazakhstan and can be found here.
Dr. Webb Williams has joined our campus during a very strange time for all of us. Nevertheless, she has "enjoyed teaching, despite the pandemic challenges." During her first year, Dr. Webb Williams has taught courses on the "Introduction to Comparative Politics" and "Comparative Political Economy" and hopes to teach a course about post-Soviet politics in Central Asia. In terms of the REEES field more broadly, Dr. Webb Williams has been "very glad to see the community having conversations about racism and other forms of discrimination and bias in our field." She explained, "Obviously, we still have a lot to do to move beyond conversations and into action. I'd like to give a shout-out to the awesome work of the Association for Diversity in Slavic, East European, and Eurasian Studies (ADSEEES) and Q*ASEEES."
Though this year has been a very difficult time for many, Dr. Webb Williams has been impressed by the level of engagement her students have shown and is also "very grateful for the online activities from REEEC and other units on campus. They've helped me get to know folks and have been a great forum for showcasing new and important research." She is looking forward to connecting with her new colleagues and students more in the post-pandemic future, along with being able to plan service projects that focus on mentoring people who are new to scholarship and academia. Until such a time where everyone is able to be together again, Dr. Webb Williams has been keeping herself busy with "walking, fiction, family, and the few days of cross-country skiing that I got after all the February snow!" 
 
Nora Webb Williams is an Assistant Professor in the Department of Political Science at the University of Illinois Urbana-Champaign.