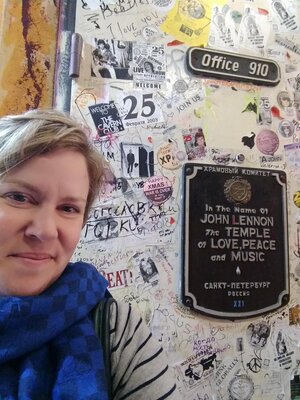 By Jamie Hendrickson (MA, REEES)
We would like to highlight Sarah Phillips, a former FLAS fellow in Russian and Ukrainian at the University of Illinois Urbana-Champaign from 1994 to 1996.
While a student at Illinois, Sarah earned her M.A. in Anthropology in 1997 and completed her Ph.D. in Anthropology with a minor in REEES in 2002 with her dissertation, "'Civil' Societies and 'Evil' States: Ambiguities of Women's NGO Organizing and Patriarchy in Post-Soviet Ukraine." Before that, she spent a semester abroad at Moscow State University, and earned her B.A. in Anthropology and Russian from Wake Forest University in 1993. She also worked as a graduate assistant at the Summer Research Lab (SRL), as an editorial assistant at Slavic Review, and taught a seminar for REEEC M.A. students over the course of her study at Illinois.
Sarah has had quite the prolific and accomplished career since then, serving as a Visiting Assistant Professor of Anthropology and Russian, East European, and Eurasian Studies at Illinois in 2002 and then as a Visiting Assistant Professor of Anthropology at Sewanee, The University of the South in 2003. She has been a Professor of Anthropology at Indiana University Bloomington since 2013 and the Director of Indiana's Russian and East European Institute (REEI) since 2015. Her research interests primarily focus on postsocialist transformations, gender and women's studies, medical anthropology, disability studies and other topics situated in the former Soviet Union, particularly Ukraine and Russia. She has received numerous awards over the years as a result of her research and teaching skills, including an "Outstanding Achievement Award" from the Association for Women in Slavic Studies in 2015 and an "Award for Outstanding Service" in 2017 from the Institute for International Education's Scholar Rescue Fund.
As the author of many different scholarly works, including her two published books Women's Social Activism in the New Ukraine: Development and the Politics of Differentiation and Disability and Mobile Citizenship in Postsocialist Ukraine, it's safe to say that Sarah is quite familiar with the ins and outs of REEES. This makes her happenstance beginning in the field all the more curious.
When a newly enrolled student at North Carolina's Wake Forest University in 2003, Sarah happened upon Russian studies quite randomly. "At a student orientation the week before classes began," she explained, "I was lucky enough to cross paths with an amazing Professor of Russian and then Dean of Students, Dr. William Hamilton. Dean Hamilton, a Slavic linguist, encouraged me to study Russian. I fell in love with the Russian language and became very active in the Russian and Germanics Department, and ended up double majoring in Russian and Anthropology at Wake Forest. I was able to spend a semester at Moscow State University in 1993, and my commitment to dedicating my career path to the region was solidified."
After her semester in Moscow, Sarah came to study Anthropology centered around the REEE region at Illinois, stating that her experience here completing her "coursework through REEEC, the FLAS fellowships and language studies, and working for SRL provided an invaluable foundation for my career as a professor and administrator in the REEES field." Sarah was also an active member of the REEEC community, reflecting that she "loved being a part of the REEEC community at Illinois and having the opportunity to take courses from first-rate faculty, meet visiting scholars, attend lectures, films, and other events, participate in a writing circle ("kruzhok") in REEES (coordinated then by emeritus history professors Diane Koenker and Mark Steinberg), and more. REEEC was the hub of a vibrant intellectual community. I was lucky to have a lot of support in the Anthropology Department, too, and benefitted from a Ph.D. committee comprised of faculty with diverse expertise who were interested in my research in Ukraine."
Her downtime as an Illinois student was also enjoyable. "My favorite thing about Champaign-Urbana was the New Art Theater [renamed the Art Theater, but now closed] and the annual Roger Ebert Overlooked Film Festival [now the Roger Ebert Film Festival]," Sarah described, "I became a huge film buff thanks to the New Art! I also spent a lot of time with émigré communities from the former Soviet Union in Champaign-Urbana."
Sarah was gracious enough to offer some advice for those interested in pursuing jobs in the field: "First, take advantage of any and all opportunities for networking that present themselves (and seek out and create such opportunities!). Personal connections are so important for getting your name and profile out there, and you really want to conscientiously cultivate those contacts. Keep in touch with colleagues who have the kinds of jobs you would like to land—they can advise and mentor you. Be a conscientious and generous colleague yourself—share information and contacts and keep your commitments; be the kind of colleague you would like to have! Second, diversify your skill sets. Definitely focus on honing your foreign language skills and getting robust in-country experience if you can. Think about what skills might differentiate you from the 'crowd,' so to speak, and work to develop those. Third," she concluded, "keep an open mind and recognize that a career path is just that—a path. You may need to spend some time on various steppingstones before you land your 'dream job.' And you may discover passions you didn't know you had along the way!"
Sarah is excited to announce that her 20-year-old son "has finally decided to study Russian" and that she has begun conducting a new and exciting research project during her sabbatical on "the American writer Kurt Vonnegut's popularity in the Soviet Union in the 1970s and 1980s. I've had so much fun with this project, and it has been a great challenge, introducing me to archival work and new fields of exploration, including literary history and translation studies. At the same time, I'm bringing an anthropological angle to the work that I hope is insightful and refreshing." She anticipates a book to later be released about this research, tentatively titled as Kurt Vonnegut in the USSR.
A second Russian edition of Sarah's 2010 book Disability and Mobile Citizenship in Postsocialist Ukraine will be published later this year as Invalidnostʹ i mobilʹnoe grazhdanstvo v postsovetskoĭ Ukraine.
More information about Sarah and her work can be found through Indiana University Bloomington's Anthropology Department page and REEI's page.