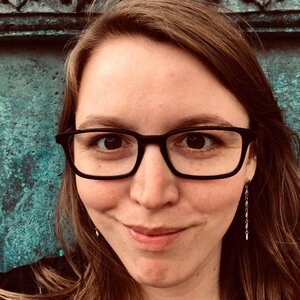 By Jamie Hendrickson (MA, REEES)
REEEC would like to highlight Deirdre Ruscitti Harshman, a former REEEC FLAS fellow in Russian from 2011 to 2013.
Deirdre earned her M.A. in History from the University of Illinois Urbana-Champaign in 2013 and her Ph.D. in History from Illinois in 2018 with her dissertation, "A Space Called Home: Housing and the Management of the Everyday in Russia, 1890-1935." Before becoming a student at Illinois, she earned a B.A. in History and English Writing with a Certificate in Russian and East European Studies from the University of Pittsburgh in 2011.
Upon finishing her Ph.D. at Illinois, Deirdre held a one-year Postdoctoral Fellowship at the Higher School of Economics Research University in Moscow from 2018 to 2019. Highly recommending the experience and fondly recollecting her time there, she shared that her "favorite parts there all involved getting to talk to people – in the archives, on trains, in banyas, just in my everyday life. Although the region has a reputation for aloofness, that just means that people don't feel obligated to feign interest for the sake of politeness. The conversations you do have, therefore, are so engaging because everyone involved wants to talk. Plus, post-Soviet humor is fantastic."
After finishing her fellowship and returning home to the U.S., Deirdre has been an Assistant Professor of History at Christopher Newport University (CNU), a public liberal arts university in Virginia, since 2019. She primarily teaches about such topics as modernity, global history, Russian and Soviet history, and gender studies. Examples of her CNU courses are "Soviet History and Beyond" and "The Modern World," which are thematically similar to a course she taught and designed as a Widenor Teaching Fellow in Fall 2016 at Illinois titled, "Urban History: Urban Utopias, Reimagining the City."
As a researcher and a historian of modern Russia, Deirdre focuses on urban spaces in the revolutionary period (1890-1935). She is currently working on a book project that draws on her dissertation themes of everyday life and utopian studies that is tentatively titled, The Unruly Everyday: Managing Housing, Home, and the Russian City, 1890-1935. The project not only aims to argue "that managing the everyday was a fundamental part of the modern project," but that "the home was a site of such management, and the book traces how it occurred in domestic sites and relationships such as the kitchen, the landlord-tenant relationship, and nighttime flophouses" in Russian cities in the late nineteenth and early twentieth centuries. Deirdre has also been the Book Review Editor of The Soviet and Post-Soviet Review since 2017.
Long before becoming a scholar on the REEE region, Deirdre's journey into Russian studies began back when she was in high school. Growing up in suburban California, her "teenage rebellion manifested in a desire to study something that I then perceived to be the antithesis of where I grew up. If suburbia was dominated by hegemonic capitalist norms, and California was known for warm weather, then I would study the Soviet Union." This eventually brought her to study Russian history and language as an undergraduate at the University of Pittsburgh, where "digging further into the nuances of Russian, Soviet, and American history" allowed her to "unsettle the binaries that drove" her "towards the field in the first place."
Her "enthrallment" with Russian history then led her to become a graduate student at Illinois. "While I was a Ph.D. student in the Department of History at UIUC," Deirdre explained, "I received extensive help, support, and collegial guidance from REEEC. This came in many forms, including regular fellowships/employment, access to fascinating talks and conferences, and collaborative assistance to create and run the Ralph T. Fisher Workshop. These opportunities introduced me to the fascinating complexities of REEE studies and gave me the tools I needed to start contributing to the field myself. As a graduate student, REEEC is such a fantastic ally to have in your corner."
"One of my favorite parts of my time at UIUC," she continued, "was the chance to constantly be introduced to new sources of information that challenged my previous assumptions. Through superb classes, regularly scheduled lectures and conferences, reading groups, and informal chats with professors and other colleagues, I was able to delve into the research questions that fascinated me. In addition, although my focus was Russian history, I was able to learn about the broader collection of fields and specializations that fall under the REEES banner. Finally, in addition to those scholarly considerations, I have to give credit to Urbana-Champaign itself – it's a great place to live, and no bar will ever live up to the high standards that Blind Pig set."
As a clearly accomplished scholar, teacher, and representative of REEES, Deirdre is a veritable source of knowledge for those with any interest in joining the field. After immediately recommending to "start by indulging your curiosity," she went on to explain her advice further: "My interest began because of assumptions that I had made about how different Russia would be from where I grew up, but as I learned more and challenged that binary way of thinking, the nuance and complexity only made studying the region more fascinating. One of my favorite aspects of my current job," she concluded, "is getting to teach courses in Russian history, so I can encourage students to complicate their own starting points. This is particularly important given that discussions of Russia and the former Soviet Union in popular media often lack context. Studying at places like REEEC gives you the tools to build that context."
In addition to her aforementioned book project on everyday life in Russian cities from 1890 to 1935, Deirdre is also working alongside Rebecca Friedman (Associate Professor of History at Florida International University) to publish an edited collection titled The Soviet Home: Domestic Ideology and Practice with Bloomsbury Publishing sometime soon. We at REEEC wholeheartedly congratulate Deirdre on her professional success and hope to see even better things for her in the future.
More information about Deirdre and her career can be found here on her official CNU page. Jamie Hendrickson, the author of this profile, just earned her M.A. in REEES from Illinois.