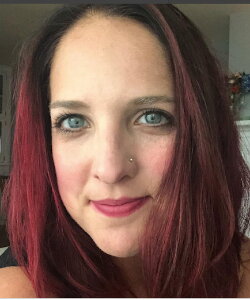 Contact Information
801 S. Wright St.
105 Coble Hall
M/C 488

Visiting Project Coordinator, REEEC and IGI
Research Description
Rachel Stauffer wrote a dissertation in linguistics, focusing on Russian phonology in contrast to that of American English and socially stigmatized dialects. She is a seasoned language instructor (Russian and Spanish), and has diverse research interests in the areas of Russian language, film, culture, and folklore, and the intersection of the teaching of courses on the region with principles of multicultural education and critical theory. Her recent research seeks to identify ways to diversify, decolonize, and liberate the field of Russian Studies to pave the way for instruction and scholarship in the field that disrupt dominant cultural narratives. Her current research projects include: a study of language instructors' attitudes toward gender-inclusive language in the instruction of commonly taught world languages; a study of routine as effective mitigation of student speaking anxiety in world language classes; a curriculum project designed to foster collaboration among undergraduate students, K-12 teachers, and post-secondary faculty that also transforms K-16 social studies curricular content about Russia and Eurasia; and a study of sociopolitical and ideological factors that shaped the formation of Russian language programs in the US from 1945 to 1965.
Education
EdM, Diversity & Equity in Education (transferred Spring 2022)
University of Illinois, Urbana-Champaign 
MEd, Equity and Diversity (Fall 2018-Spring 2021)
James Madison University
MA, PhD, Slavic Languages and Literatures (2004, 2009)
University of Virginia
BA, Russian Studies and Spanish (2000)
Randolph-Macon Woman's College 
Grants
Co-PI, "Growing the Field of Russian Through Diversity and Inclusion" (co-creator of the AATSEEL Certificate in Diverse and Inclusive Pedagogies) (2021-2023)
James Madison University International Travel Grant (presentation at Canadian Association of Slavists conference) (2019)
University of Pittsburgh Language Teaching and Language Research (LTLR) grant (2017) 
Japan Outreach Initiative Program (2012-2014 & 2015-2017) 
National Endowment for the Humanities, Bridging Cultures at Virginia Community Colleges (2013-2015) 
American Councils Summer Russian Teachers Program participant (2015) 
Korea Society Korean Studies Spring Fellowship (2013) 
Courses Taught
At U of I, Rachel teaches REES 495/550, Seminar in Russian, East European, and Eurasian Studies (REEES) to undergraduate majors and incoming graduate students in the MA program in REEES and the MA/MS dual degree in REEES and Library and Information Sciences (LIS). An enthusiastic, versatile, experimental, and open-minded teacher, Rachel has taught Spanish and Russian in both, P-12, and post-secondary settings, with significant experience in courses on Russian language, Russian cultural history, East Slavic folklore, Russian and Soviet cinema, Russian literature (19th c., 20th c., contemporary), and theoretical and applied linguistics. She has often advised honors projects and independent studies on a variety of topics including Soviet tanks, Russian-English translation, Old Church Slavonic, Soviet animation, and the teaching of world languages.   
leadership positions
Conference Manager, American Association of Teachers of Slavic and East European Languages (2013-2022)
Program Coordinator, Russian Studies & Associate Director of International Programs, Ferrum College (2013-2017)
Roanoke-Pskov Sister Cities Representative (2013-2017)
Outreach Coordinator, Asia Institute (East Asia Center & Center for South Asian Studies), University of Virginia (2009-2013)
selected publications
[Forthcoming]. "Paradisiacal California in Post-Soviet Russian Cinema". Comparative American Studies.  
"Russian is hard, Spanish is easy": Reflections on Antiracism and a Commonly Held Ideology in the Field". ACTR Newsletter, Fall 2021. American Council of Teachers of Russian. 
Review. KinoKultura. Tell her/Skazhi ej. Dir. Alexander Molochnikov. October 2021. 
"Teaching Crime and Punishment for Social Justice". In Michael R. Katz and Alexander Burry, eds. Approaches to Teaching Crime and Punishment. MLA Series on Teaching World Literature. (MLA, 2022). 
"Creating an Antiracist Pedagogy of the Oppressed". Slavic and East European Journal. (Winter 2020). Forum edited by Gabriella Safran and Anindita Banerjee.
"A Traditional Karaoke Musical: Zhora Krizhovnikov's Samij lučšij den'/Best Day Ever". East European Film Bulletin. (December 2020).
"Addressing Issues of Representation in Russian Language Textbooks". In Jason Merrill, Irina Dubinina, Evgeny Dengub eds. The Art of Teaching Russian. Washington, DC: Georgetown University Press, 2020.
Review. KinoKultura. The Game/Igra. Dir. Dmitrii Astrakhan. April 2020. 
"Redefining the Russian Culture and Civilization Survey for the Trump Era". Slavic and East European Journal Blog. September 26, 2018. Russian Studies in the Era of Trump , Ani Kokobobo, ed. 
Tolstoy. Critical Insights Series. Ipswich, MA: Salem Press, 2018.  [Edited volume]
"A Social and Emotional Spectrum of Russian Forms of Address: Foundations for a Concept-Based Approach to the Development of Sociopragmatic Competence at the Introductory Level". Slavic and East European Journal, 61.4 (Winter 2017).
Nabokov's Lolita. Critical Insights Series. Ipswich, MA: Salem Press, 2016. [Edited volume]
"Russian For Law Enforcement, Intelligence, And Security". In J. Trace, T. Hudson, & J. D. Brown, Developing Courses In Languages For Specific Purposes (Pp. 229–241). Honolulu: University Of Hawai'I, 2015.
Russia's Golden Age. Critical Insights Series. Ipswich, MA: Salem Press, 2014. [Edited volume]
professional affiliations
American Association of Teachers of Slavic and East European Languages (AATSEEL)
Association for Asian Studies (AAS)
National Association for Multicultural Education (NAME)